Landscapers & Excavating Contractors in Oregon City, OR
North West Landscape Care and Tree Service is proud to be a premier provider of landscape, hardscape and tree services in Oregon City, Clackamas County, Redland, and West Linn, OR and the surrounding areas. We're a locally-owned and -operated business of landscapers and excavating contractors, taking pride in every service we provide and treating our customers with the respect and integrity they deserve.
Landscapers You Can Rely On
Your lawn, garden and landscape say a lot about your property. To ensure the message is a positive one, it's imperative to invest in landscape design and lawn care maintenance, delivered by highly trained professionals. At North West Landscape Care and Tree Service, we specialize in helping you raise the allure of your property to new heights and can deliver a bevy of services aimed at transforming it into a unique, alluring, one-of-a-kind visual. Whether it's cleaning up your trees and shrubbery or it's utilizing pavers to create amazing hardscape complements, trust our team to bring a vision of beauty to life and deliver optimal landscape maintenance in Oregon City, OR to keep it looking its best.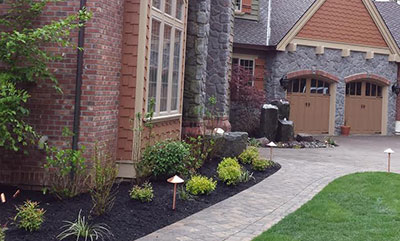 Our expert landscapers and excavating contractors are seasoned in all areas of landscape maintenance, masonry, decks and fencing, tree services, and more. We understand the dynamic these two features have in the overall aesthetic of your property, and we know how to leverage both to create a space that is both beautiful and functional. Our ideas take shape based on a thorough observation of your property and a consultation with you about your needs, wants and preferences. From there, we create, renovate, innovate and enhance your property to ultimately leave you with something exceptional. We even go above and beyond any other lawn care service in Oregon City, OR to work in decks and fencing where needed, making us your all-in-one contractor for landscape excellence. Take a look at just a few more reasons we're so widely known for our landscape and hardscape services:
We're a fully licensed, bonded and insured company.
Our business maintains a superior rating with the Better Business Bureau (BBB).
We're proud members of the local Chamber of Commerce.
Our expert team is backed by more than 15 years of professional experience.
We offer a full range of landscape, hardscape and fencing/deck services.
Get a Quote from Our Landscapers Today
If you're looking for best-in-class landscape and hardscape services, provided by expert landscapers and excavating contractors who take pride in their work, get in touch with us today for a free estimate.
Proudly offering landscape services to the following areas:
Oregon City, OR
Happy Valley, OR
Gresham, OR
Clackamas, OR
Lake Oswego, OR
Milwaukie, OR
Tualatin, OR
Hillsboro, OR
Clackamas County, OR
Multnomah County, OR
Columbia County, OR
Canby, OR
Beaver Creek, OR
Mulino, OR
Wilsonville, OR
Tigard, OR
Beaverton, OR
Portland, OR
Washington County, OR
Yamhill County, OR
Marion County, OR