Trees bring a certain beauty and majesty to your landscape. They tower over other foliage providing shade, while giving a property dimension and perspective. Needless to say, having well-maintained trees on your property is a major benefit!
North West Landscape Care and Tree Service aims to provide customers with only the best in tree service in Oregon City, Clackamas County, Redland, and West Linn, OR. We take professional care of your trees, so you can enjoy them to the fullest, worry-free. Our abilities include: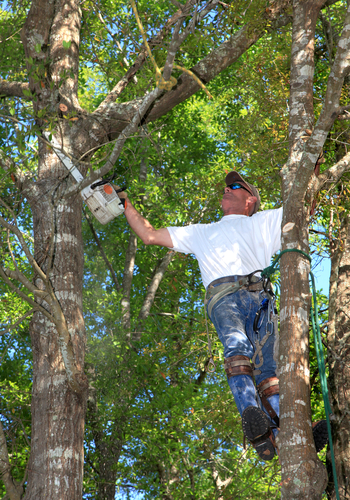 General tree service and care:
We're your all-in-one tree service experts, providing all of the essential services your tree needs to thrive. Whether it's fertilizer applications or just a seasonal trim, we'll give your tree the individualized attention required for long-term, healthy growth.
Tree trimming:
Tree trimming in Oregon City, OR is essential for maintaining a healthy, happy tree. Trimming ensures your tree's branches aren't overburdened and that nearby buildings and utilities aren't in danger. We trim with your tree's health in mind at all times.
Tree pruning:
Tree looking a little thick or overgrown? Contact our team for pruning and thin out those dense canopies! Pruning and shaping is also good for growth, promoting positive form and allowing all of the branches and leaves to get the light needed.
Tree removal:
If your tree is dangerously overgrown past the point of pruning or has become a victim of infection or decay, the smartest option may be tree removal in Oregon City, OR. We'll vet the condition of your tree and determine if removal is the right choice. If it is, we'll tackle the job with complete safety and quickness.
Stump grinding:
Felled trees leave behind unsightly stumps. To hide these reminders and restore the appearance of your landscape, we offer stump grinding. This process grinds your stump down safely below ground-level, preventing the mess that comes with uprooting or excavating it.
With a full range of tree services to meet the needs of your unique trees, North West Landscape Care and Tree Service is the company to call for peace of mind. From general care to trimming and pruning, tree removal to stump grinding, we're your tree's best resource throughout its life. Contact us today at 503-572-9324 for more information on our tree services, landscape maintenance, masonry work, and much more.